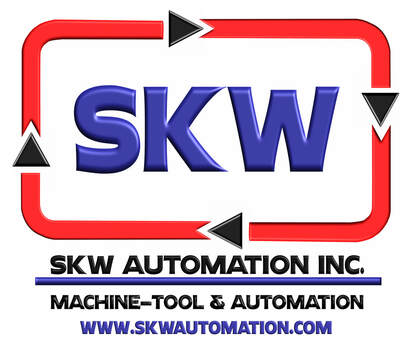 ​​SKW is a one stop shop for your automation requirements.
​We design, build and program turnkey automation solutions to
meet your needs with a specialization in Fanuc Robotics. As an
Authorized System Integrator for Fanuc we have teamed up with the
world's leader in robotic automation to bring you the very best the
industry has to offer.

With more than 100 robot models we're ready for any manufacturing
challenge in any industry. FANUC robots are easy to operate and
provide complete flexibility thanks to a range of application-specific
options, straightforward integration, payloads up to 2,300kg and
​ maximum reaches up to 4.7m.

​o Turn-Key Automated Systems
o Custom Machine Building
o Mechanical Engineering and Assembly
o Controls Engineering and Assembly
o System Integration
o Weld, Assembly, Inspection and Test Fixtures
​o Robotic Stacking Cells
o Automatic Assembly Transfer Systems
o Automation Upgrades on Machine Tool Equipment
o Custom Inspection and Assembly
Equipment
o Conveyor Transfer Systems
​o Mechanical, Electrical, Hydraulic and Pneumatic
Assembly
o Machining and Fabrication



Today's high labor costs, safety requirements and technical part requirements demand sophisticated, state-of-the-art machines. Completely automated machines are less reliant on operator skill. SKW will engineer and build the part process that meets your needs.

Let SKW increase your productivity, eliminate safety concerns, and help you produce a finished part that consistently meets all specifications. SKW can re-manufacture and automate your current equipment or provide you with new equipment to suit your needs.

Pick and place loading and unloading systems are engineered to boost cycle times and reduce operator handling. Each system is engineered to meet the needs of your particular part or family of parts.

Through in-house engineering, SKW designs, builds, and backs its own new machine builds, retrofits, conversions, automation, and material handling. You can gain single vendor support and accountability of turn-key systems designed to improve your manufacturing process.